Providing personalized, professional accounting and tax services to business, individual and trust clients on the Delmarva Peninsula.
At Starkey & Company, PA, we focus on building close client relationships that add long–term value. We provide a full range of tax services utilizing our teams 100 years of combined experience to handle any tax situation that you may encounter. We believe planning is the key to maximizing tax savings. Effective tax-planning is a multi-year exercise. Our experience and knowledge allows us to propose smart planning strategies that minimize taxation over many years and generations. If your business has financial reporting needs that do not require an audit, we can provide reviews and compilations. This includes evaluating financial procedures and working to produce strategies that help our clients face challenges of business planning and execution. Our clients benefit from objective analysis to assist in controlling costs and increasing efficiency. Our goal is to fill the role of outside controller/financial adviser for our clients.
"Your success is our primary objective. If your current financial adviser isn't asking you questions, you're not getting the personalized services you deserve" 
These are the values our team embraces:
Professionalism – We are a firm that is dedicated to the highest standards in providing taxation, accounting, and business advisory services while striving to exceed expectations.
Integrity – We are a firm that holds ourselves out to the highest level of integrity, honesty and trust in our relationships with our clients, our vendors and each member of our organization.
Accessibility – We are a firm that values open communications with our clients, as we want our clients to feel comfortable asking questions, inquiring about important decisions, and discussing their concerns at all times.
Vision – We are a firm that strives for growth through innovative business strategies, integrity, and respect when performing our responsibilities with our clients.
Team Work – We are a firm that appreciates and respects the input from all members of the engagement team, both members of our staff and of our clients.
Community – We are a firm that respects the whole person and understands the importance that family and community have on our staff and our organization.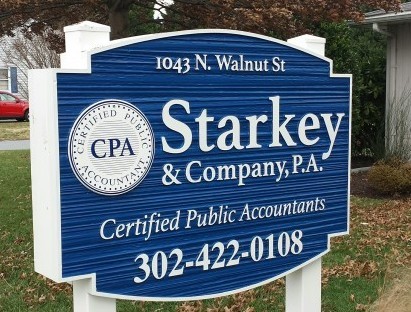 "The staff at Starkey & Company is very friendly, efficient, and knowledgeable ."
Tyler Plumbing & Construction
"Robert Starkey and his firm provide first class accounting services. The staff is very personable and they handle all our business and personal needs.  They have always gone out of their way to ensure that we are completely satisfied with their work!"
Jeff and Judi Reed, Owners, Citadel Engineering, Inc. and Sussex Aero Maintenance, Inc.
"Bob is great and his staff is incredible, they have been a huge part of our success with TJ's Repair and were very helpful in our purchase of Milford Napa Auto Parts. The service they provide is top notch!"
Tim Millman, Owner, TJ's Repair and Milford Napa Auto Parts, Inc.
"The staff at Starkey & Company do a great job. Reasonable prices and quick service."
Vincent Deskiewicz, Sr.
"Robert Starkey is a highly competent CPA. Bob is very approachable and generous with his time and expertise."
Dr. Robert Marier